Just a few companies can say that they not just kept all their employees during the pandemic, but also gained new ones. Szabolcs Szabadfi did so. He wasn't scared of the decreasing profit during the COVID-era because he knew that people would always eat bread – so this period, which sometimes seemed to be endless, offered him a unique opportunity to invest in his own people and in the future. As he says, he lives in a fairytale world, and this is what he bakes into his beautiful pastries as well. This fairytale definitely looks and tastes good, and it really seems to work. When we arrive, the vivid terrace is busy, even if they are in a hidden street in Szentendre, just next to the stream. If you want to enjoy a lunch here, it's definitely worth booking a table ahead. After finishing their meal, most people step into the bakery and leave with one or two bags of pastries. It's just impossible to leave without those bags. Although the food delivery didn't meet their expectations during the pandemic, with moving the bakery outside, and serving street food in the kitchen, they quickly found long queues in front of their place very soon. As Szabolcs says, they baked not only meals in their oven; they baked happiness. During the pandemic he knew that he had to serve something special in his products, something to make people happy, and of course, make them visit the bakery again. Because he didn't have any other option, he organized workshops for his employees, to take them back to that very high quality production they were committed to in the very beginning.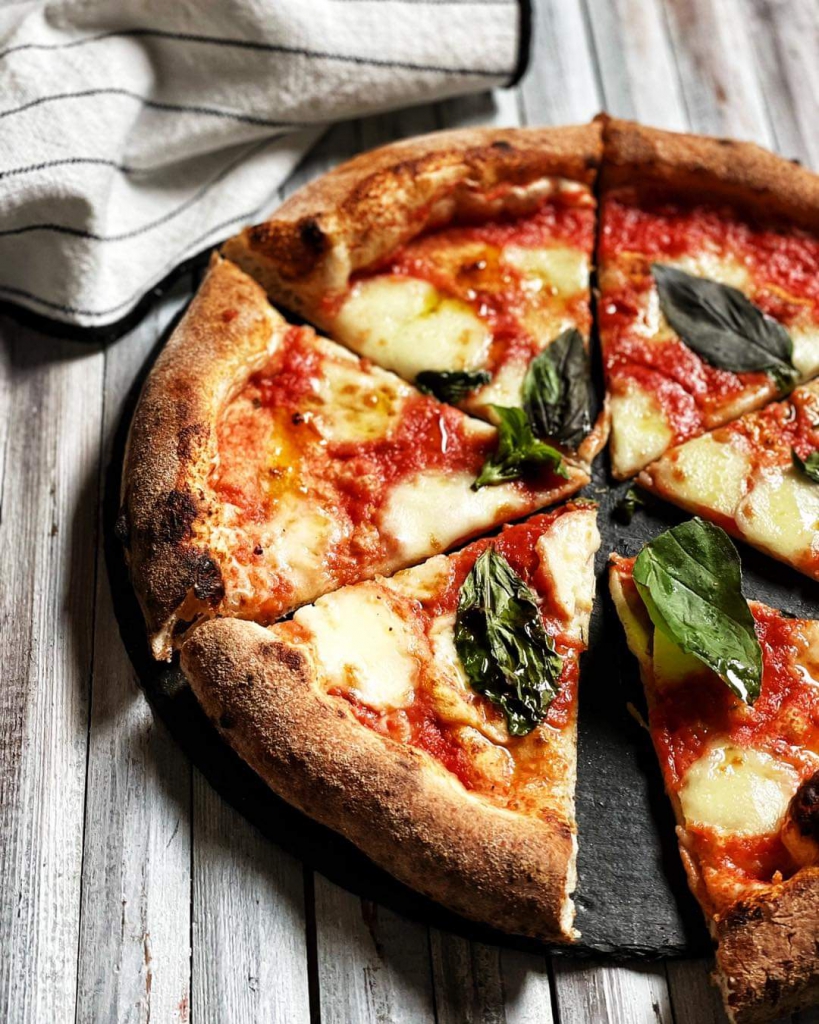 The bakers consider their work a kind of art, while they keep their eyes constantly on seasonal ingredients, and unlike most of the bakeries in Hungary, their offer is constantly changing. When we visit them, they are making pastries with elderberry, while the restaurant is just coming out with a new seasonal menu. Sometimes they try to offer something new, but in the end it always turns out that there's demand for the favorites.  Szabolcs admits that it took years to learn everything about their pizza oven – and maybe by now they know how to use it perfectly.
The profile of the kitchen and the bakery work in a strong connection, Gábor Bodnár executive chef creates simple but tasteful dishes with ingredients from their own garden or gardens of friends nearby. They have just opened their very first place outside Budapest, a huge shop in Debrecen. Their factory is moving out in September from Városmajor street, Budapest, into a bigger place, and the workshops are open again to the public in a brand-new room in the attic. They are touring through the country with a mobile pizza oven and a mobile car shop, and at the moment offer pizzas in two different styles for the UEFA European Championship. In this fast-growing business there's always a place for new employees, it's just Szabolcs's maximalism which could be, as he adds laughingly, maybe less intense, however, maybe this is what makes their oven and their business work.